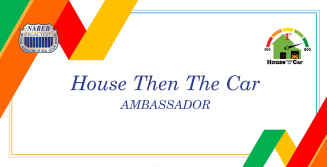 I am proud to say that I am now certified as a House Then The Car (HTTC) Ambassador. What is House Then The Car? Just as the name implies, this national campaign, undertaken by the National Association of Real Estate Brokers (NAREB), is all about helping people – with a focus on Millennials and Gen Xers – obtain the most important asset in their lives: a house. The car can wait! A house is a great investment; on the other hand, a car's value almost invariably plummets as soon as the car is driven off the dealer's lot.
The goal of NAREB'S Two Million New Black Homeowner (2MN5) initiative is to increase the number of US black homeowners by two million, to eliminate the racial gap and disparities in homeownership (41% black versus 71% white as of October 2020).
As Atlanta's premier HTTC Ambassador, I will educate consumers – including through webinars – about the many useful tools and resources that can help them eliminate the obstacles to homeownership: budget and credit tools, along with numerous down payment resources that – up to now – have often been overlooked.
If you would like to learn more, please call or text me at 678-907-6565.